Biodegradable oils for chainsaws – is it a lifeline for Polish forests?
Although this is a seemingly trivial environmental problem, in the face of dangerously dwindling water resources or dire air quality in Polish cities, it is hard to pass by this topic indifferently. Talking about the pollution of forests with oil for chainsaws and other forestry machinery. The state is slowly finding a way to impose on logging contractors to act less harmful to the environment. The number 1 weapon seems to be the use of biodegradable oils for chainsaws.
What is the problem – is biodegradable oils for chainsaws not a lobby manufacturer ofow?
As with almost every state environmental regulation, ktore enforcing the use of specific solutions, the question arises – whether by any chance someone wants to make money on it? Despite the rise of conspiracy theories about oil producersoIn the case of chainsaws, the matter seems clear. According to statistics, up to 7 millionoin a literoof oil is poured into the wall each yearoforestry team during chainsaw operation. This oil in about 80-90 percent. is splashed by the chain mechanism within a radius of up to several metersow from the operator. Only a few percent of chainsaw oil leaks directly under it – The use of a topical sorbent mat will not give a good result. What remains?
The answer zaroBoth lawmakers and the manufactureroin oiloin the environmentally friendly to chainsaws was to create a product based on vegetable oil. This has been perfectly successful, as biodegradable oils retain the properties of their harmful predecessorsow, with this rotion that they can completely decompose in less than a month after a spill. The eco-friendly chainsaw oil also includes refiners – Anti-corrosive substances that increase viscosity indexes, that is, improve the operation of the chain mechanism. Two benefits come to the fore – saw work, whichora less harm to the environment and greater longevity and reliability of these tools.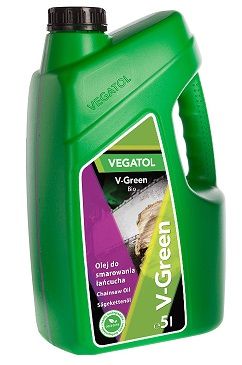 Vegatol's biodegradable chainsaw oil
Biodegradable oils for chainsaws vs. Polish law
As of 2016. The decision of the Directorate of Forestry has come into forceoin the state, whichora is to prevent contractors from tenderingoin working with other than biodegradable oils. Unfortunately, there are still cases where these rules are not observed. Failure to comply with these regulationsow is punishable by a fine of PLN 2,000 at a time in the event of an inspection. Also, working on hydraulic systems requires following the right rules. Oprocz to use biodegradable oil for forestry machinery, the operator must change it in such a wayob to prevent local leakage and protect himself with a sorption mat. The penalty for failing to use sorbent at the time of replacement is a one-time fine of PLN 100.