Heating mats – an innovative solution for your home
Why the heating system is worth considering taking the long view? According to statistics, up to 80 percent. operating costs during the heating period can come from the need to create comfortable living conditions. There is something to look for savings in, right? Heating mats seem to be the perfect balance between economy, ecology, durability and modern technology. Here are some words about such an application in your home.
Heating mats – stwoThe heating mats will give the room a pleasant aura
We chose the type of heating (often roAlso reheating) rooms based on electricity. A well-optimized controller will allow in a wayob economical to run the mat and constantly maintain the temperature we want. If at the stage of construction of the house we provide for the use of heating mats, it is necessary to take care of proper insulation, so that heat does not escape. Combining good construction technique with optimal, economical heating mat operation is the way to goob for a very economical supply of heat.
Heating mats are also valued for their lack of product emissionsoIn combustion during heat production. Emitter has no negative impact on the environment, does not require the supply of solid or liquid fuel – Is safe for the local ecosystem. We can dispense with the boiler room and the cumbersome operation of the boiler. Heating mats are convenience and ecology in one. If we combine this with the previously mentioned insulation in the house, we have a recipe for extremely economical and efficient heating.
Heating mats – infrared heating
The operation of the heating mat itself requires the supply of electricity to it from the grid. It can come, for example, from photovoltaic panels, which makes the application itself self-sufficient and based on renewable sources ofodles of energy. Heating mats powered in this wayob become an emitter of infrared waves, whichora heats objects indoors. This heat is absorbed by walls, floors or furniture, among other things. They then all release heat steadily into the room, keeping it at the same thermal level at any height. The problem ceases to be the circulation of air from a conventional heater, whichora could cause the effect of cold nog.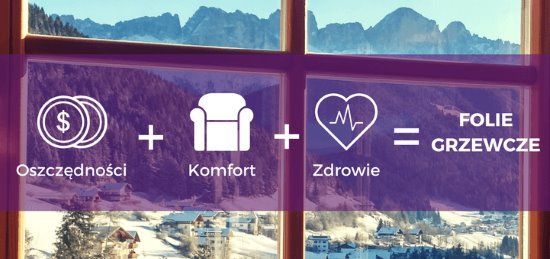 If you opt for heating mats and abandon the radiatoroin the rooms, then we gain additional space, as roWe also minimize the effect of microbial growthoin and dust. This is why heating mats are recommended by architectsow for osob, ktore struggling with the problem of allergies. Considering the principle of heating mats and the advantages of such an application, it is worth using the existing calculators on the web, whichore will help us estimate whether such a system will work in our conditions, how much we will pay for it (also in combination with photovoltaic panels), and what will be the rate of return on this type of investment.